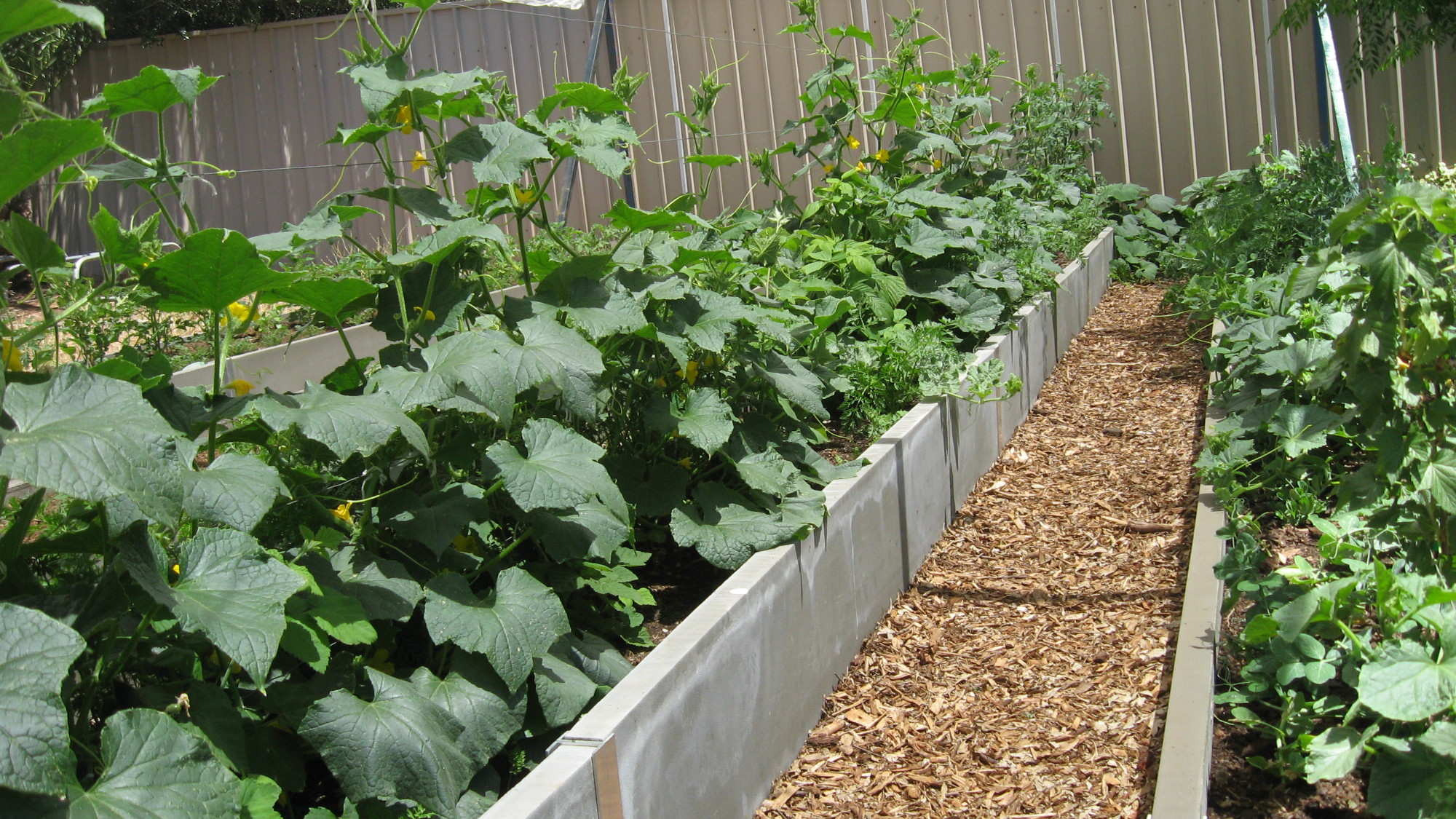 Raised bed gardening provides a head start on spring planting,
speeds up plant growth, reduces the work necessary to harvest,
and provides a more abundant yield than an in-ground garden.
Advantages of using raised garden beds
Better weed control.
Better pest control.
Better soil. You can put special soil which is the best for the needs of your plants.
Portability. You can bag up your soil and take your garden box with you if you move to a new house.
Higher Yields. You can get 2-3 times better crops than from open ground.
Accessibility. You can easily reach every single plant in your garden bed.
Adaptability. You can put your garden box anywhere and create a new exterior in your garden.
Frugality. You plant only the amount of seeds you need.Save seeds - save money.
Longer Growing Season.
Aesthetically Pleasing. Raised garden beds look neat and tidy and make your garden individual and attractive.
Decreasing water usage. you can easily organise an effective watering system for your garden bed. you will not water weeds. Seve water - save money. 
Most raised garden beds available today are made of wood, metal, recycled plastic or composite materials. All these materials have their own advantages and disadvantages.
Why are AVG garden beds better than others?
The answer is simple!
For manufacturing of all our products we use modern, effective, and inexpensive materials never used before for this purpose. The base for our raised garden beds and other garden constructions is special covered polystyrene.
We manufacture all our products only from the highest quality Australian-made materials!
AVG Material's advantages:
superior insulation efficiency,
durable and strong,
lightweight,
resistant to rotting
resistant to water penetration
resistant to solar insulation,
resistant to chemicals,
resistant to termites,
low embodied energy material.
AVG Product's advantages:
Unlimited flexibility to customer's sizes and designs (from 200 mm to any width and length,
Fast and easy installation,
Low maintenance,
Affordable price.
Other benifits and positive results:
Reduction in water usage,
Protection of plants' roots from high temperatures,
Creation of the best conditions for growing plants,
Increase in harvests from garden beds,
Possibility of growing of more sensitive to high temperature plants.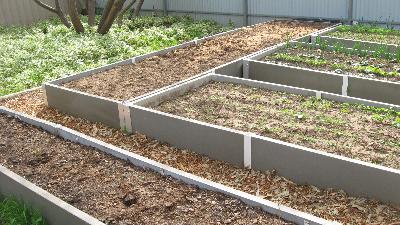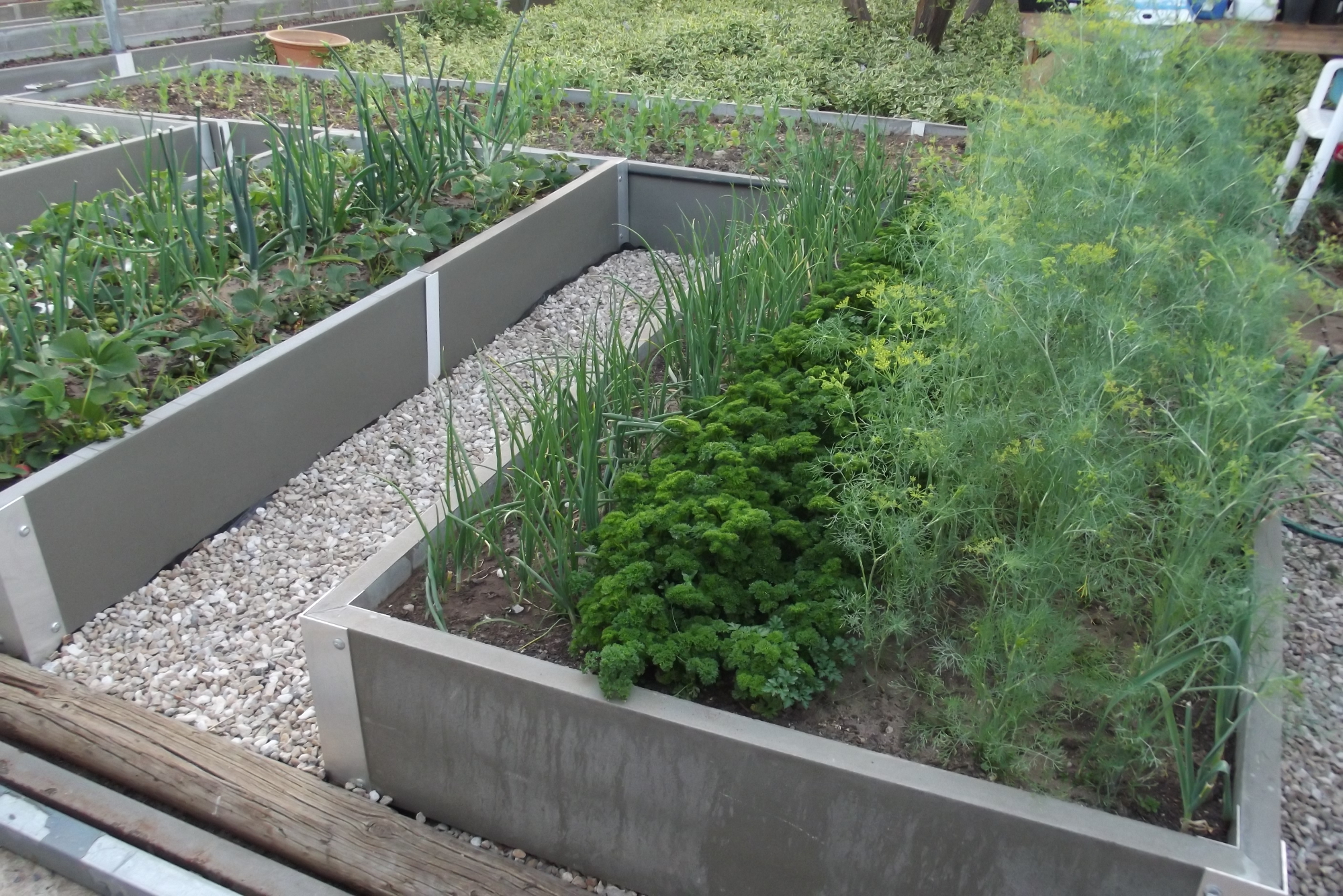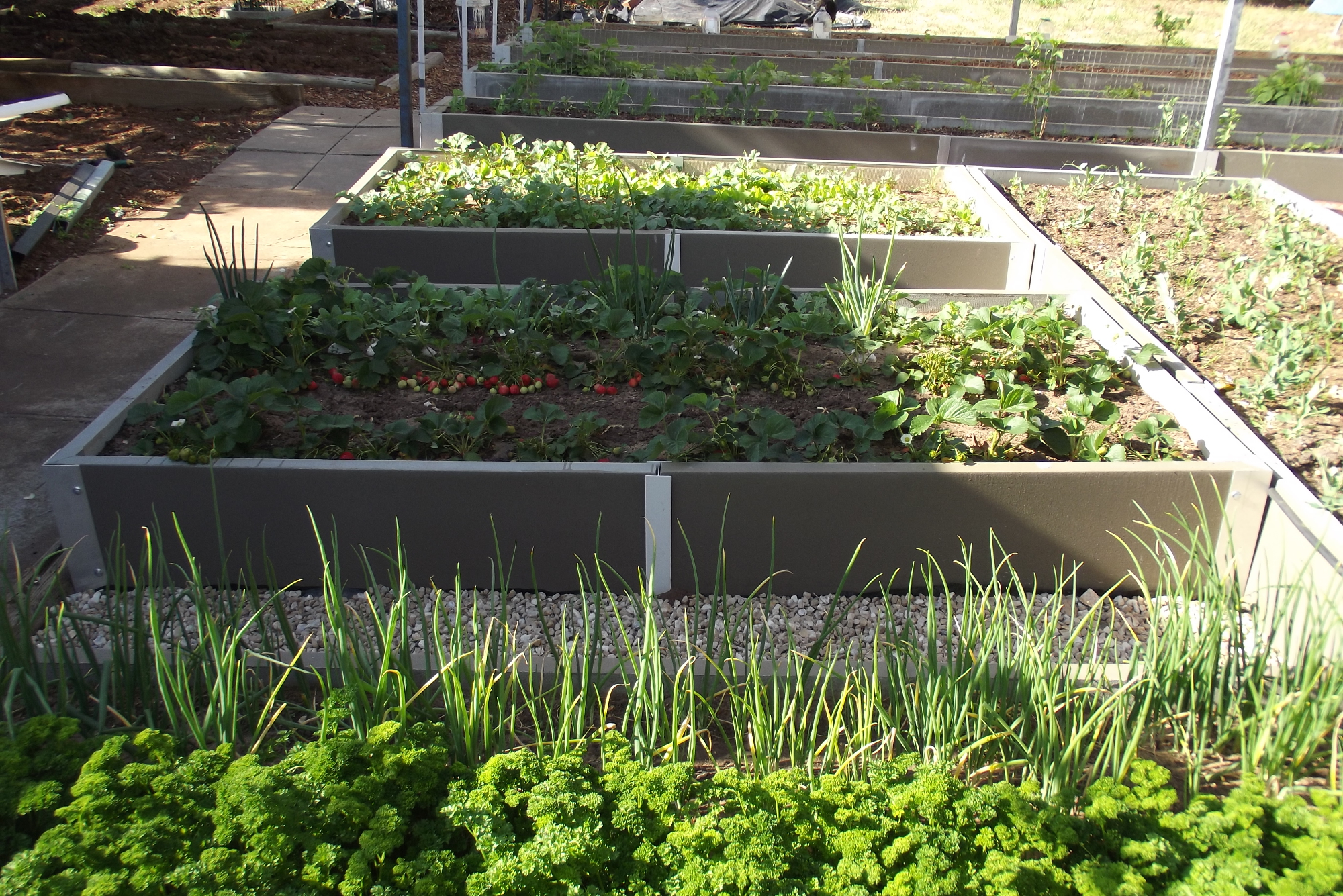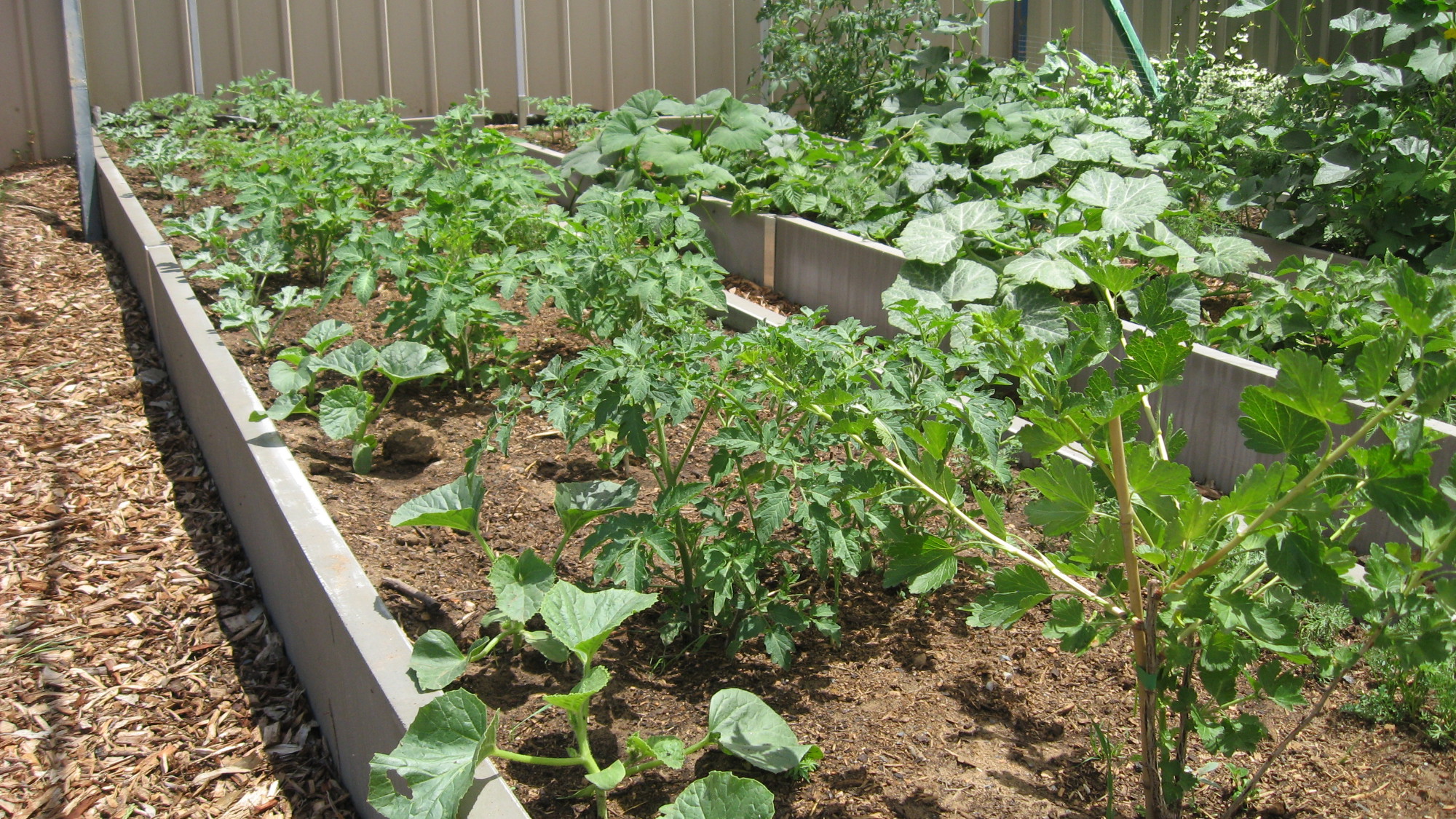 Patio & Pergola planter boxes
Australians love the outdoor way of life so the backyard, verandah and garden become an extension of home. The right pergola adds style and finish to
your home and gives your property a more complete setting within the surrounding landscape. That is why, decorating a pergola or verandah with
beautiful garden plants and flowers will not only improve your lifestyle but also increase the value of your home. Verandahs and pergolas come to life
when adorned with the right climbing ornamental plants and flowers. A classic wisteria or grape vine would add a touch of elegance to any pergola.
Planting a fruit bearing vine such as a passion fruit or sweet smelling jasmine would surround your patio with blossoming buds and fresh fragrance all
through the year. For colour and aroma you could simply add attractive annuals and herbs that can be found at any garden centre.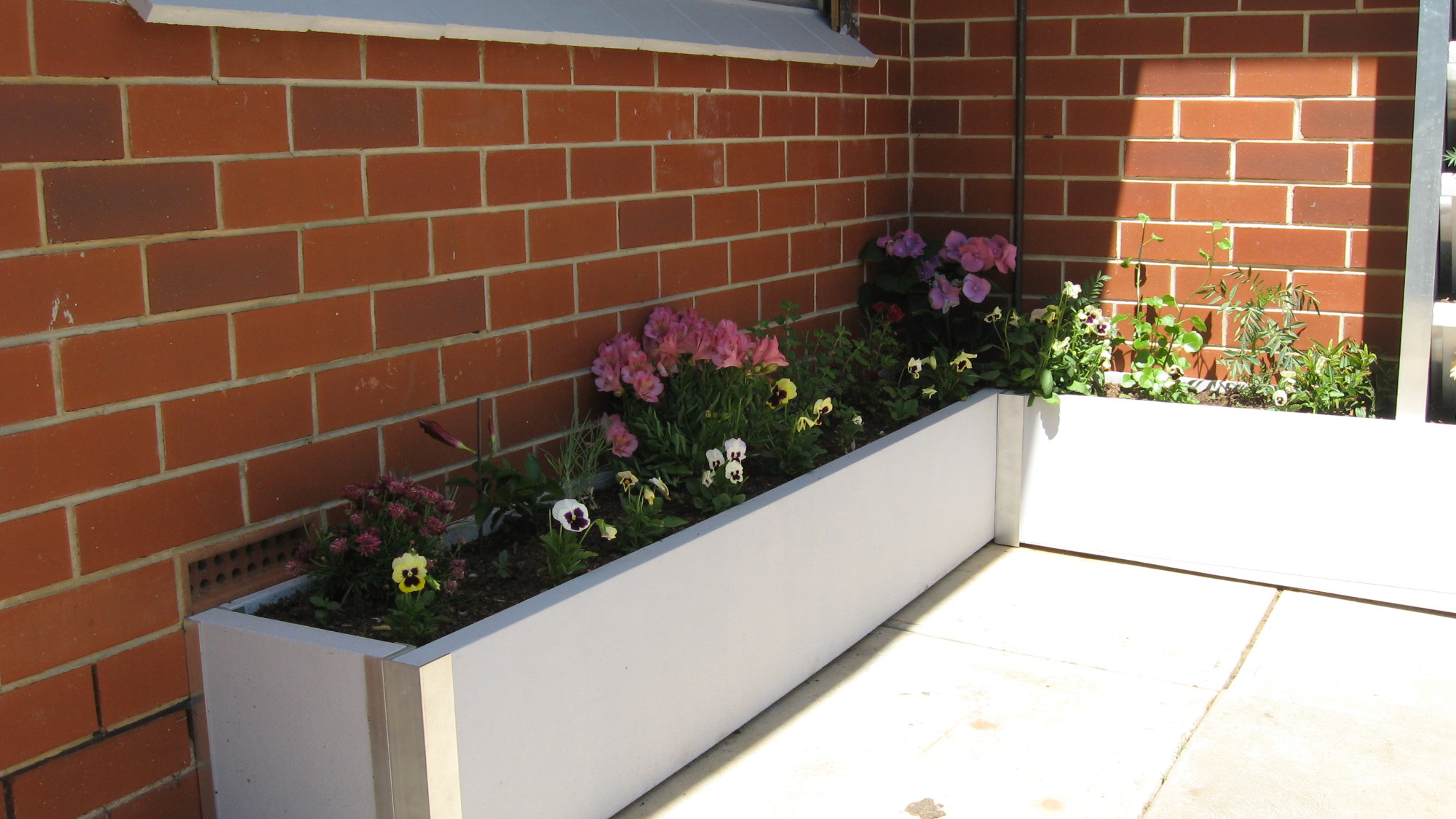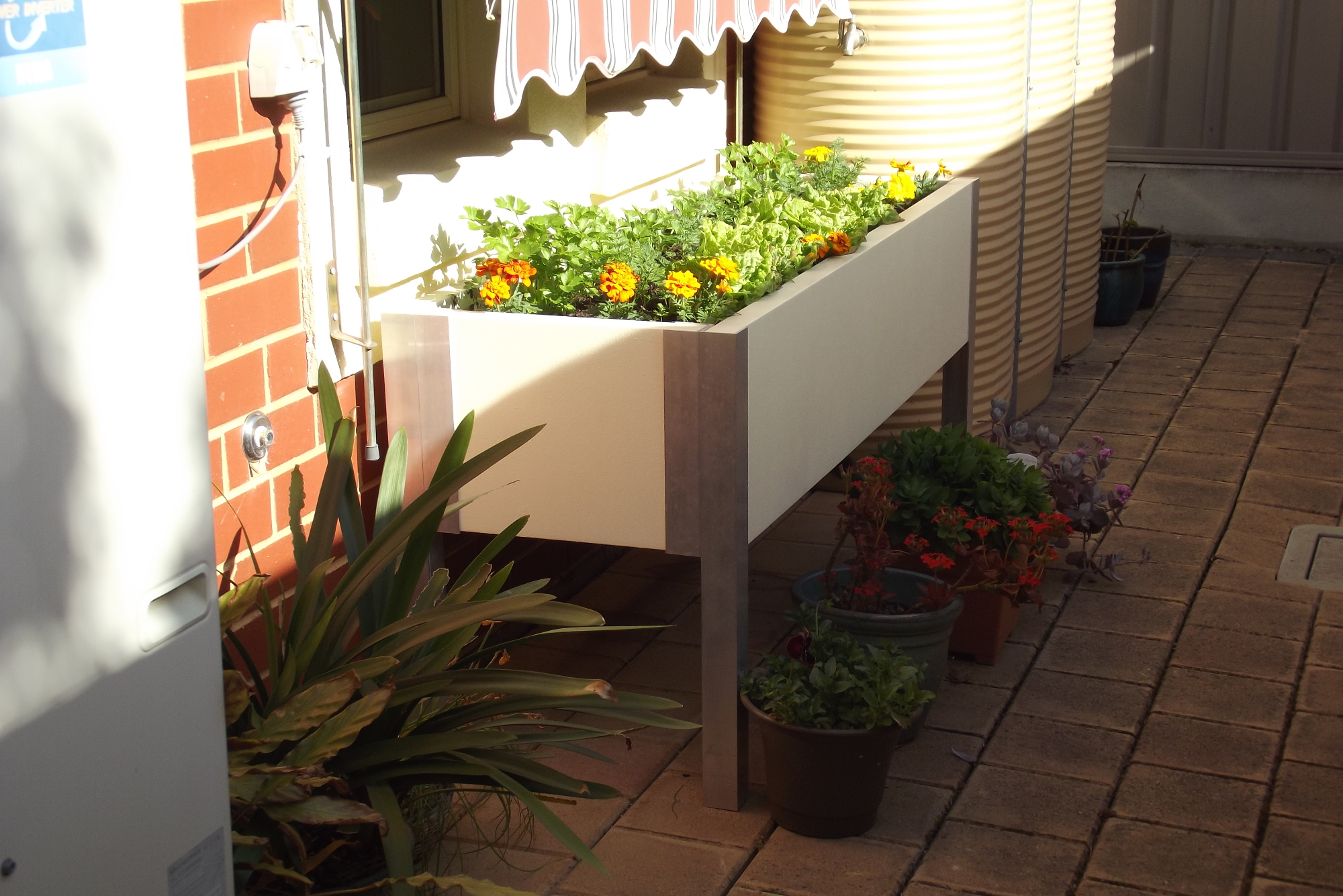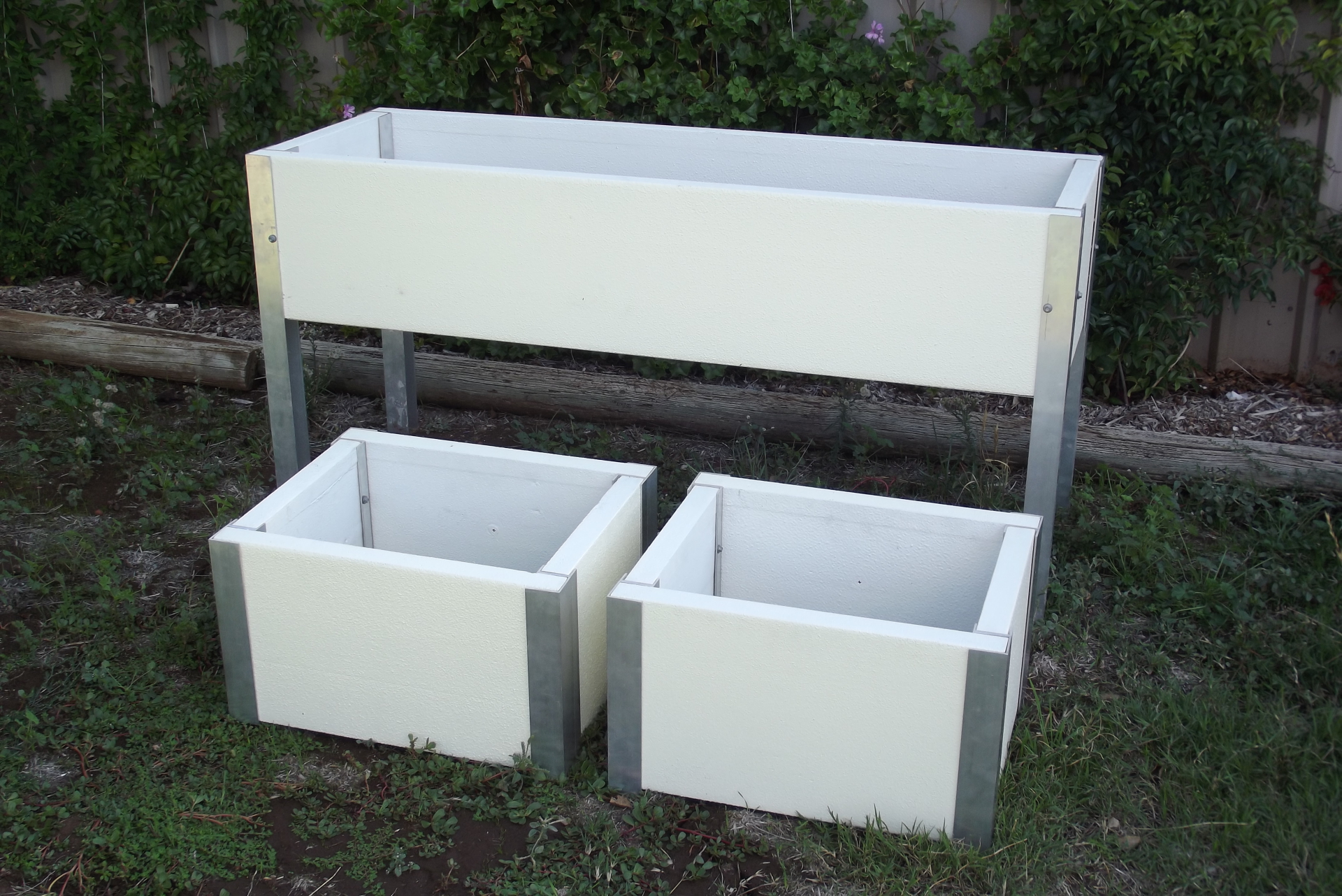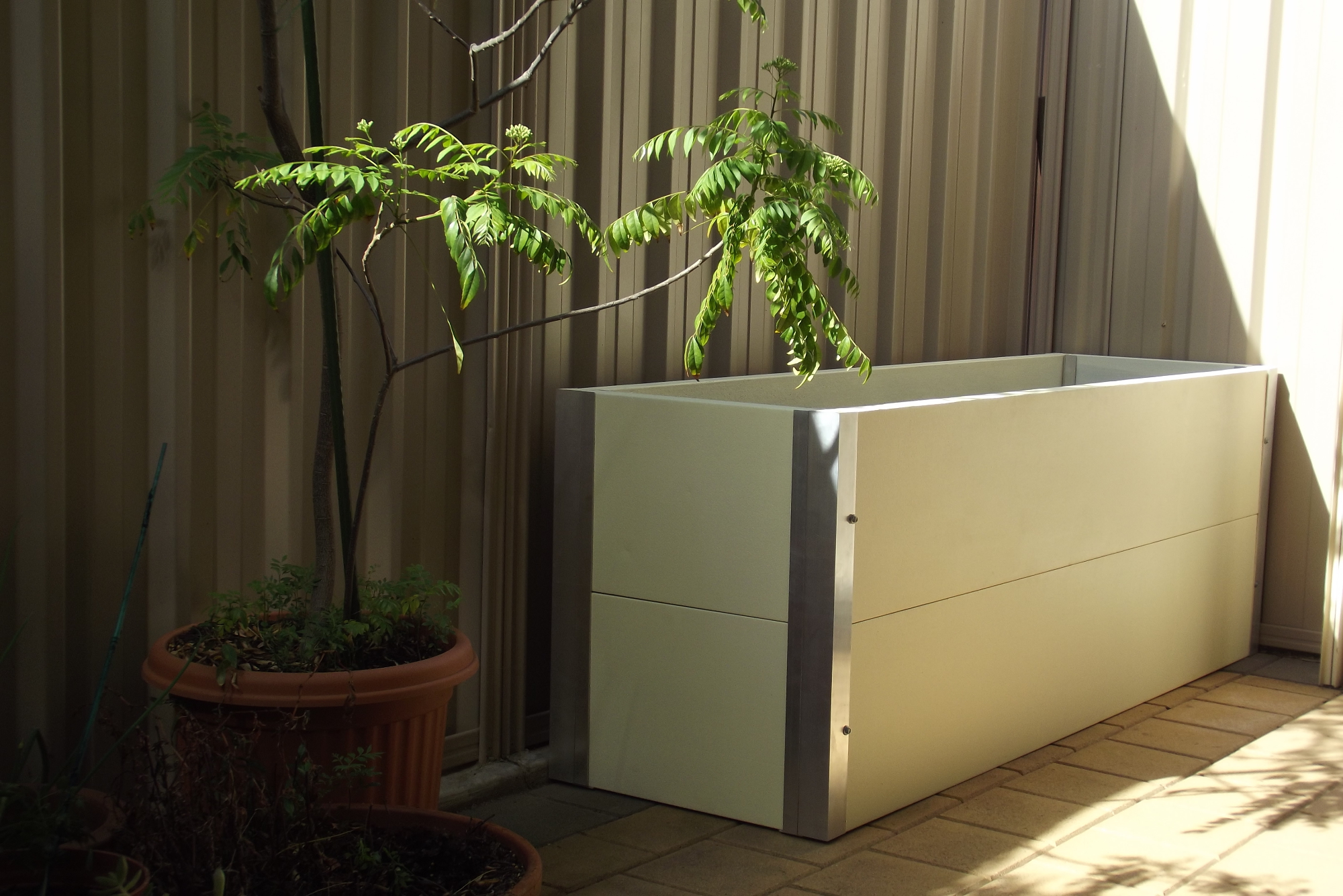 Thanks to AVG special patio & pergola planters you can create a unigue oasis with a relaxing and comfortable atmosphere.
Your family and your visitors can enjoy a spontaneous alfresco dinner or weekebd lunch under the cover a pergola within the environment of a beautiful garden.
If your neighbors have a tall house or it's higher on a hill than yours, shielding your deck or patio from view can be tricky. But one easy and effective way to do it is to create a screen wall of living plants which will protect your privacy from unwanted views. Also, you can use our patio & pergola planting boxes or vertical garden systems to architecturally divide space for your house, garden or backyard.
AVG planters are made from new, durable, effective materials - covered polystyrene and aluminium. Effective insulation of plant's roots against high temperatures gives the opportunity not only for the successful growth of most plants but, also, for the reduction of water usage.
If you plan on spending a lot of time gardening in a small area, you might consider vegetables, herbs, miniature fruit trees, cut flowers, and pots of bulbs. If time is limited though, you might be better to consider hardier plants.
With some containers you can grow your favorite organic vegetables. Your kitchen garden can be really beautiful to look at as well as productive in AVG patio & pergola planters.
Some other benefits of using AVG planting boxes for your pergola or patio area:
Aesthetic and architectural effects,
Effective place using,
Accessibility of plants for care,
Creating the best conditions for plants,
Acoustic and Screen benefits,
Low maintenance,
Improving air quality,
Increasing of property value, etc.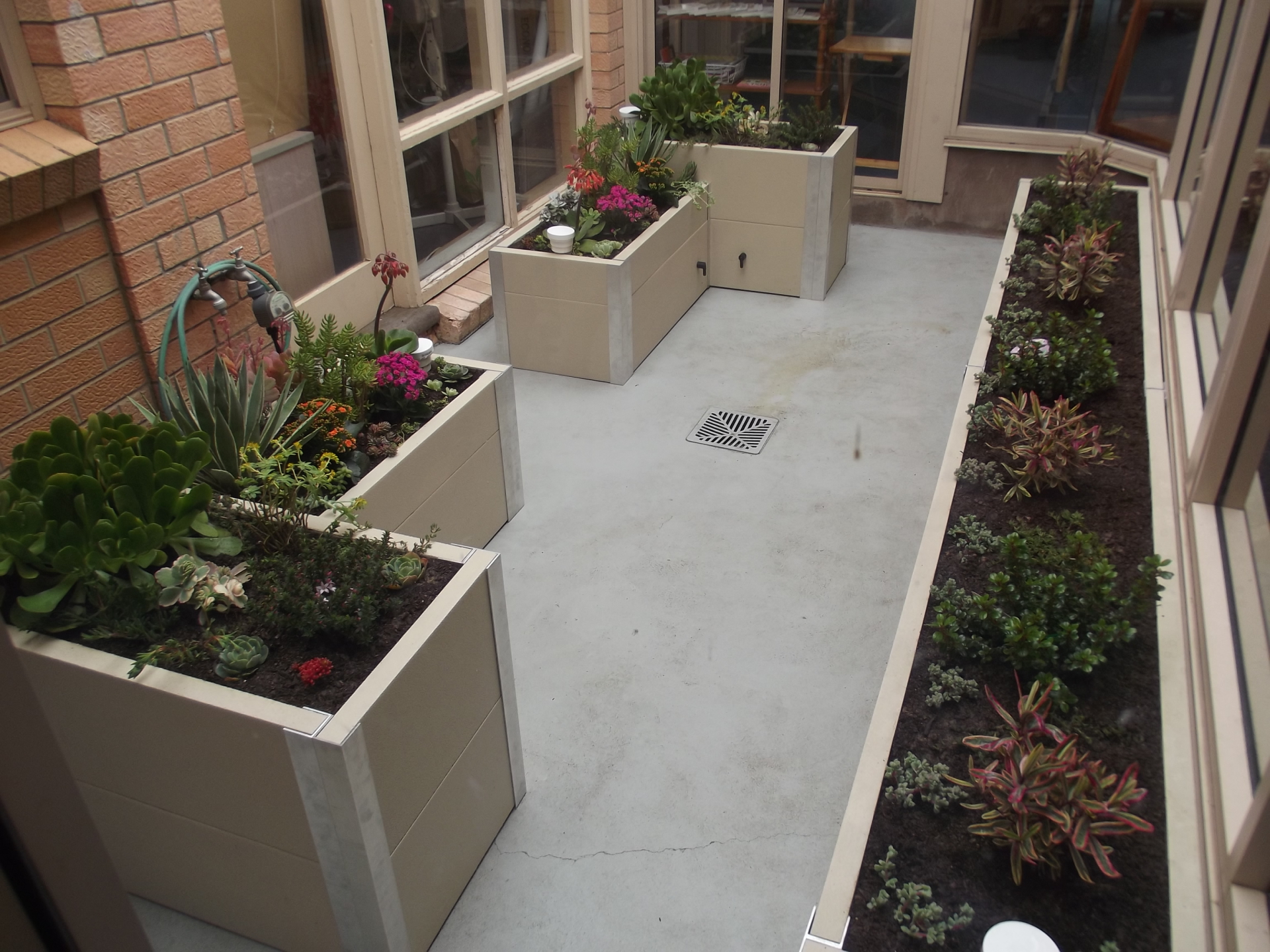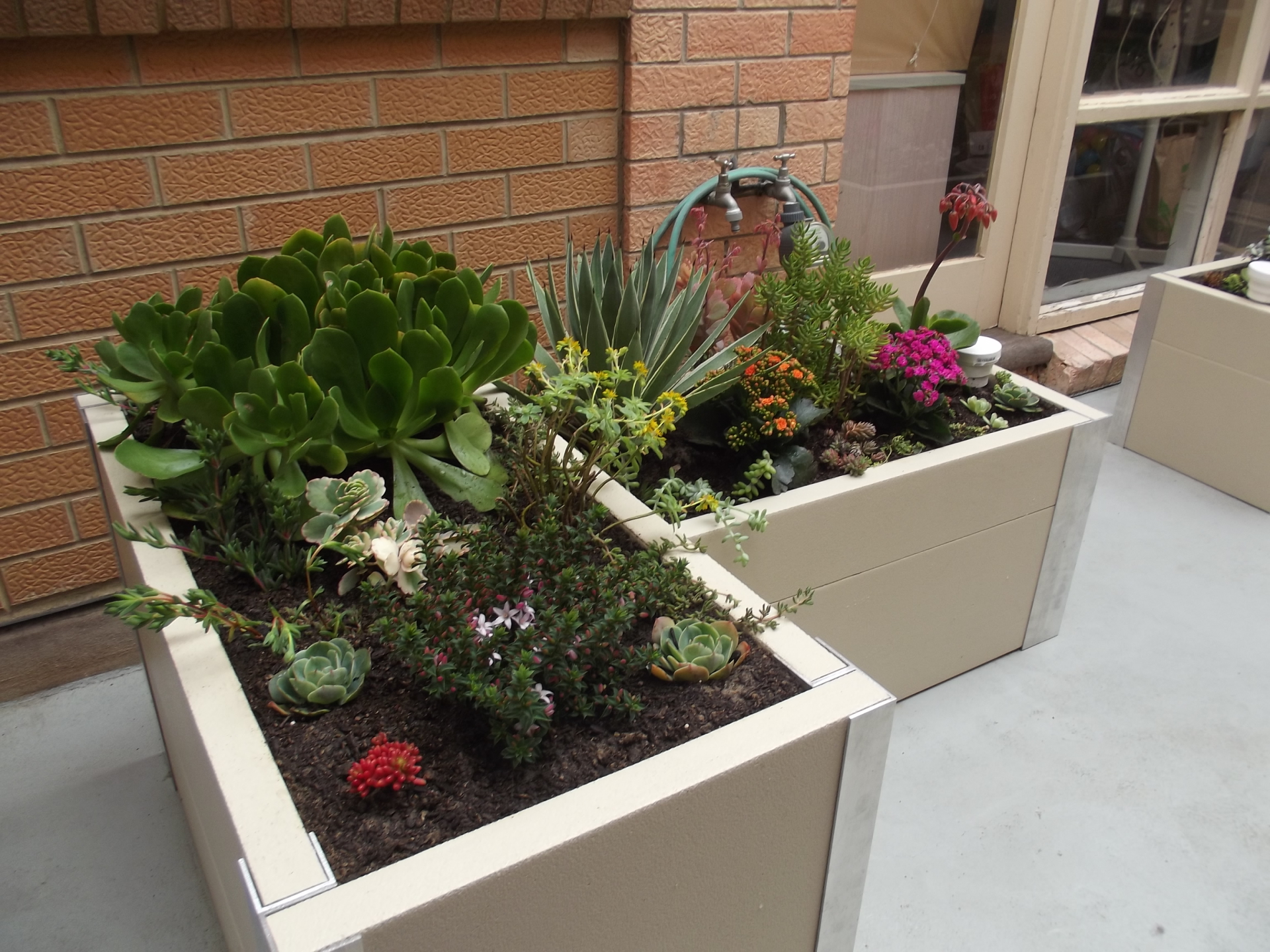 Nowadays the wicking garden bed is gaining popularity as a wonderful water wise garden bed alternative. They are an especially great system for elderly people and gardeners with less mobility/flexibility, as well as community gardens, because they save people from the everyday watering of their beds during the hot summer weeks. Wicking beds are self-watering! A full wicking bed should irrigate itself for about a week.
Wicking beds consist of a growing bed on top of a contained reservoir that is filled with gravel. The gravel bed is filled with water which then wicks up the water, providing optimum soil moisture for the plants. Wicking beds operate on the concept of capillary action, with the soil and plant roots drawing this water upwards as required. Essentially, this means that a property constructed andmaintained wicking bed should have good quality, moist soil of the time, with the roots accessing the water as they require it. The reservoir allows you to water less often, allowing you to go away for a few days in summer without your garden dying. Moreover, Wicking beds avoid the water losses that you can experience with a conventional irrigated garden bed. Typically, 10 mm of each surface irrigation is lost due to evaporation, watering from below prevents this. If too much water is applied from the surface it can pass beyond the root zone, wasting water and leaching nutrients. Wicking beds stop these losses as they are a contained system.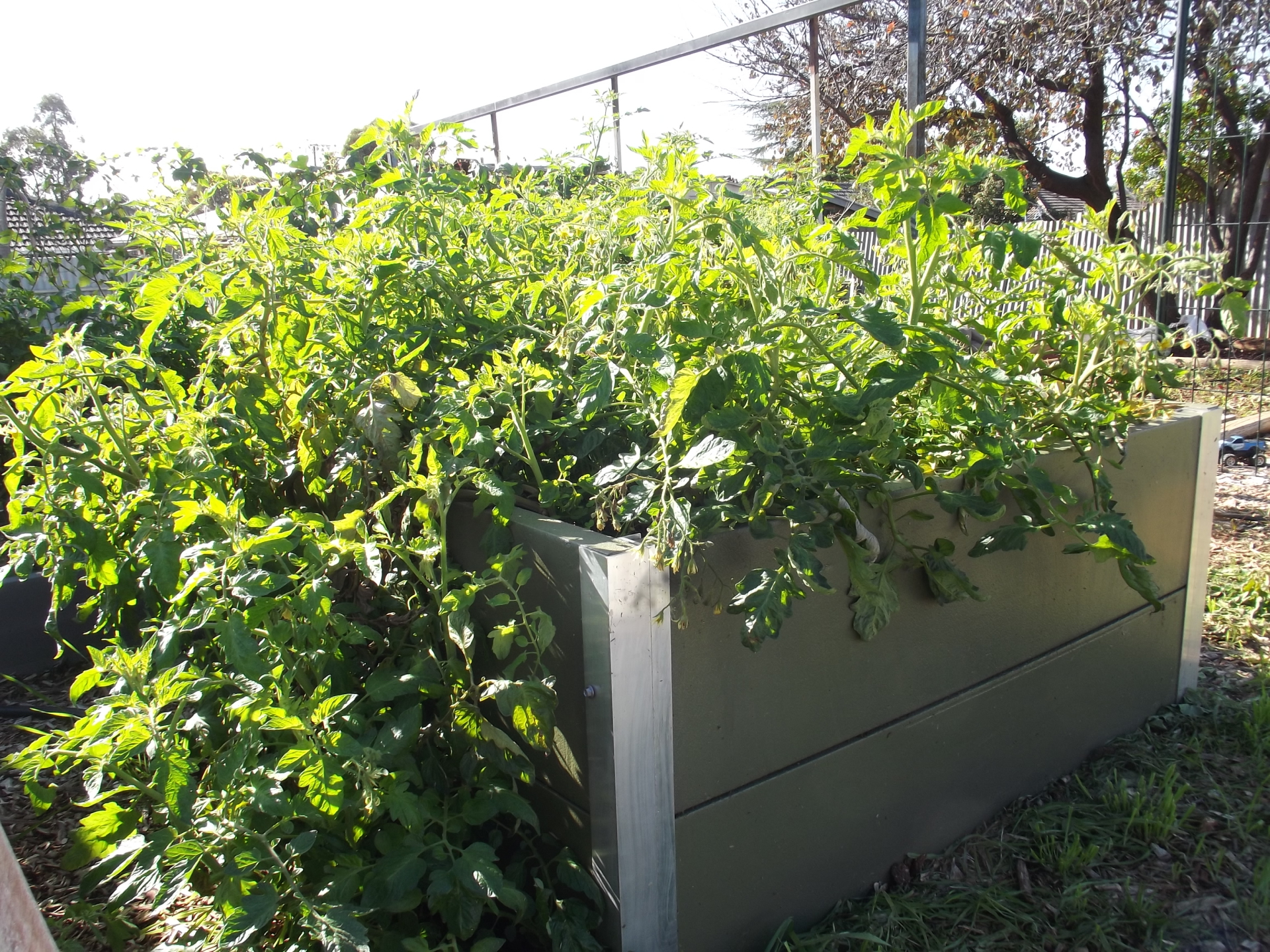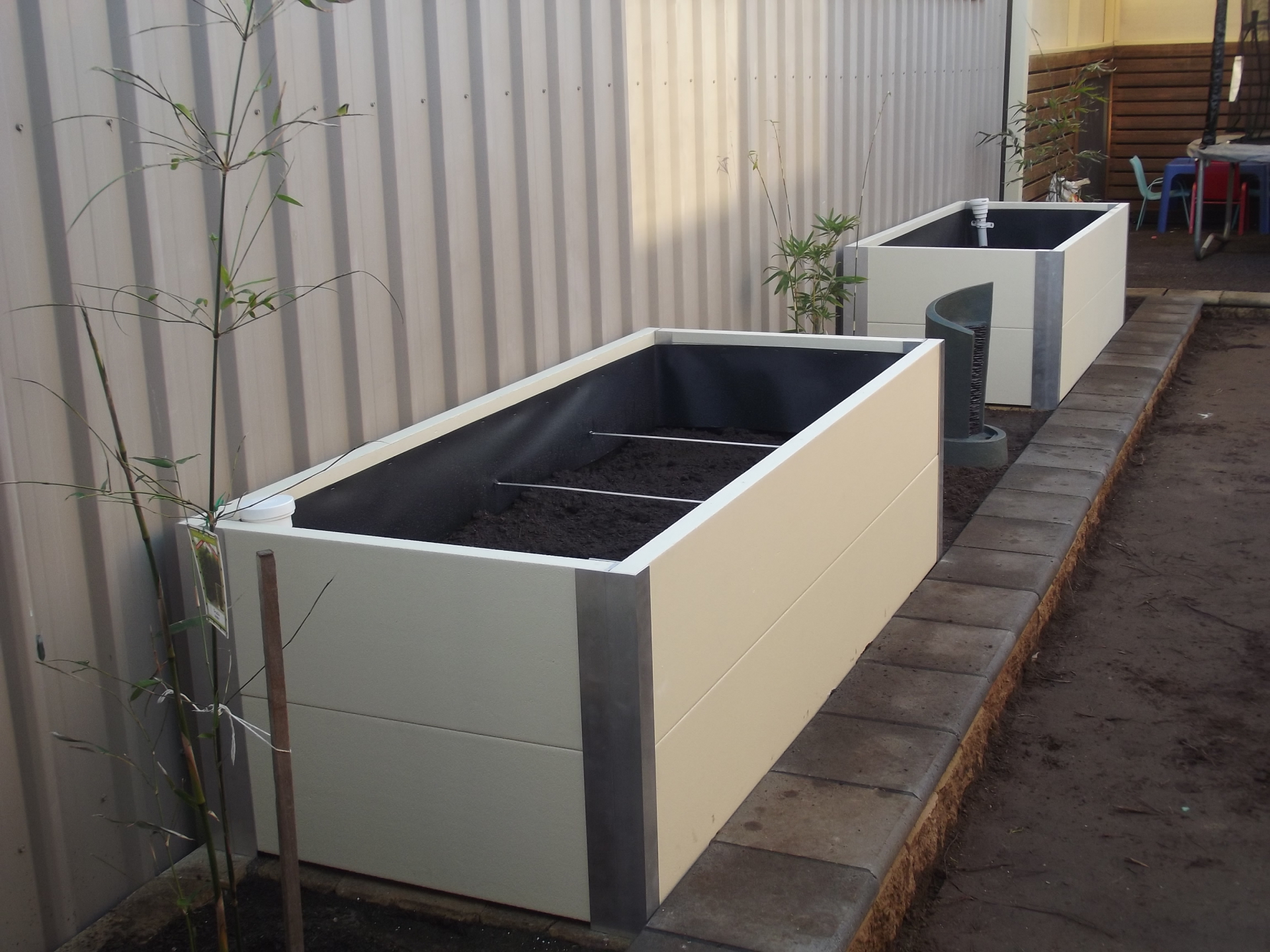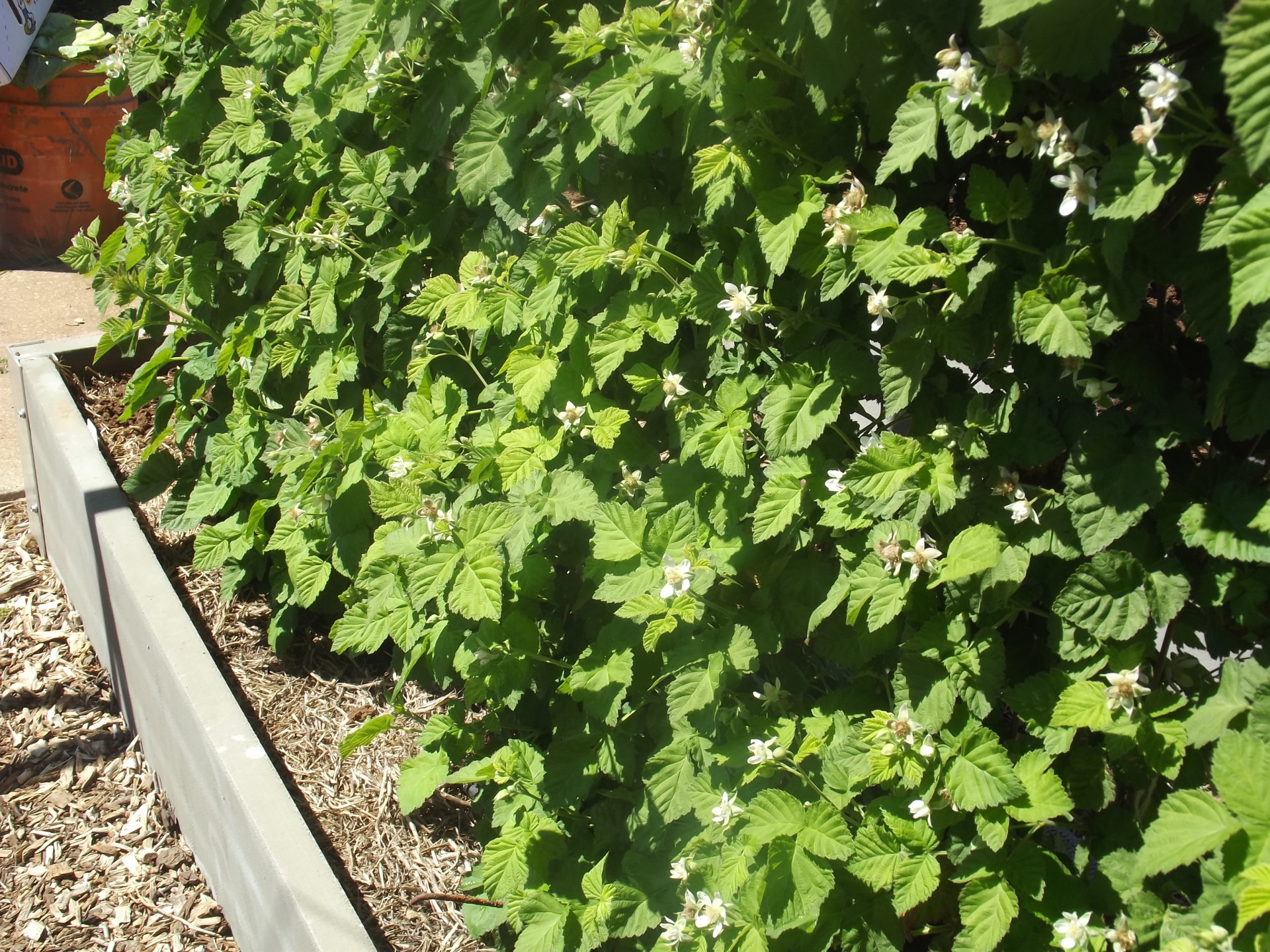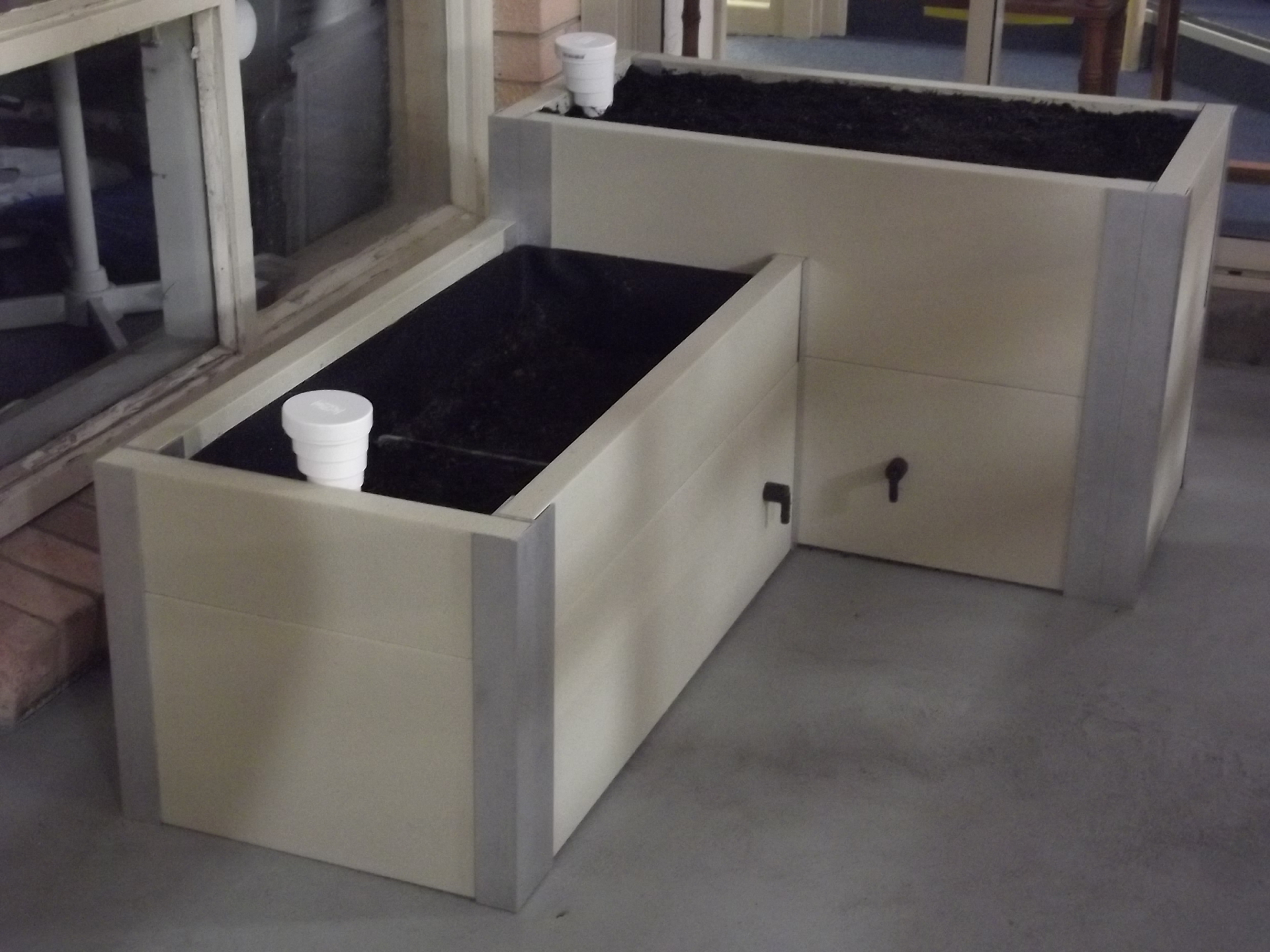 Advantages of wicking beds:
Significant increase in production in comparison to classic garden beds.

Root zone is always moist but not too wet so roots have adequate oxygen.

Avoids water and nutrient loss past the rootzone.

Uses between 40-50% less water than a conventional garden bed.

Reduced evaporation. No evaporation means no salting of soil.

Less frequent watering (allowing flexibility to leave the garden for two or three weeks at a time without your wicking bed drying out).

Harder for weeds to establish as the soil on the surfase is drier.

Can be entirely watered by a low pressure water system, meaning it can be directly connected to  a water tank without

the use of a pressure pump.

Ideal for gardens that have trees with invasive roots or are infested with Couch grass as it is very dificult for tree roots and Couch runners to penetrate into a wicking bed.
Even though  wicking beds require more materials and are more complicated to build, the long term advantages far outweigh any possible disadvantages.
Comparing standard and wicking beds

eds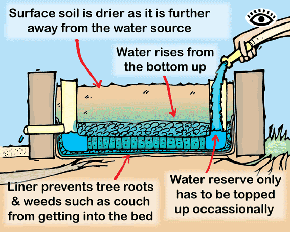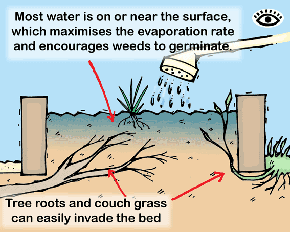 Adelaide Vertical Gardens

is the first company in the Adelaide region which builds standard sized and cuctom specified Wicking beds from a new special material with unique insulation capability - special covered polystyrene.
We  have successfully combined the advantages of our products with the wicking system and new modern materials.
AVG wicking beds are low maintenance and low water usage. They have a water reservoir underneath the soil layer and plants are watered by the wicking action of water being pulled up throught the soil straight to the roots. You can pour liquid fertilisers or pH stabilisers straight into the reservoir and let the wicking do the work for you.
We can make custom sized wicking beds without limits for length and width!
AVG manufactures all its products from only the highest quality Australian made materials!
We proudly provide affodable prices, quality products, and friendly professional service.
As a result, AVG Wicking beds is one of the best options on the modern garden beds' market!
Vertical Gardens
The popularity of Vertical gardens is growing rapidly around the world, especially in the urban area where householders often have limited space available to establish a traditional, horizontal garden. In a "vertical garden" plants grow up, instead of out. Vertical ggardens are maintained with the use of trellises and fences, creating what are often referred to as "living walls".
"Vertical gardening is an innovative, effortless, and highly productive growing system that uses bottom-up and top-doun supports for a wide variety of plants in both smal and large garden spaces."- Derek Fell, author Vertical Gardening: Grow Up, Not Out for More Vegetables & Flowers in Much Less Space.
There are many advantages of vertical gardening which are usually overlooked by gardeners:
They give you more space compared with horizontal gardening.
If you are a creative gardener, then you can play a lot with your vertical garden in order to produce some eye catching effects.
Vertical gardening is also ideal if you have a small yard or a very limited space for your gardening.
Common benefits of vertical gardens:
It is suitable for homes with small yards. You can grow up plants on the side of your fence, on a wall, the deck, your balcony, in a green house or even inside in a garage.

You can hide any unappealing walls by growing plants like vine.

Vertical gardening will allow you to work on the garden while standing which is more comfortable than having to work on your knees.

There's much less work and time involved when preparing vertical gardens - no tilling, no digging.

It's an easier way to protect your plants from pests.

Vertical gardening also helps to get rid of certain plant diseases because it keeps them above the ground and safe from soil-borne diseases. As well, air circulates well around suffering from mildew, fungus or disease.

Increase in vegetable yield thanks to advantages of better light and air circulation.
Vertical gardens not only look great but they are extremely good for the environment, especially when they are installed in built up urban areas.
They improve the air quality of built up areas, both inside the home and outside. This is because plants are natural filters - taking carbon dioxide from the air and replacing it with much needed oxygen. They also help to filter pollutants from the air.
Moreover, when they are installed on the external wall of your home, a vertical garden acts as an excellent natural insulator, reducing the temperature inside by degrees. In fact, a room with a vertical garden can be 7 to 10 degrees cooler than a room without one!
Adelaide vertical Gardens

produces products for the creation of vertical ggardens and "living walls" suitable for both commercial and residential clients. We can design, make, and install special planting boxes and vertical garden systems.
AVG garden system is an easy and inexpencive way to create a wall of living plants. You can plant flowers, non-flowering ornamental plants, and succulents or herbs and vegetables. All your  plants will be comfortable and grow successfully in our special planting boxes made from modern, effective materials. You can maintain your garden without developing annoying back pain, thanks to easier access to plants. It is extremely important for elderly people and gardeners with disabilities because they can tend and pik from a chair or garden seat.
Benefits of using AVG vertical garden systems:
Space Saving: vertical gardens use minimal ground space to maximise living space.
Insulation: the small cavity between the "living wall" and wall surface remains at a relatively constant temperature.
Aesthetic Appeal: adds a natural beauty to any room, courtyard or building.
Hervesting: increases your yield per square foot because you can fit more plants into the garden.
Energy Savings: the thermal barrier helps conserve energy by reducing the need for air-conditioning and heating.
Acoustic Benefits: good phonic qualities that absorb sound waves.
Air Quality: acts sa a biofilter to capture and denature pollutants known as Volatile Organic compounds - VOC's.
Biophilia: interaction with plants has been shown to create a sense of wellbeing.
Water Savings: uses less water than traditional pots and can be irrigated with harvested storm water.
Green Space: increase green space in the urban environment. Reduce the Urban Heat Island Effect.
Property Value: should in crease property value by adding a real green solution.
Adelaide Vertical Gardens believes that you and your family will enjoy your new, beautiful garden and high-quality organic food grown by your hands.